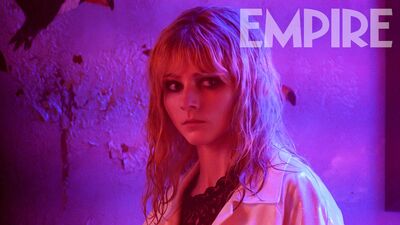 Across a handful of screen roles, Thomasin McKenzie has announced herself as a major new performer to watch – she was captivating in Leave No Trace, formidable in Jojo Rabbit, and now she's leading a very different kind of Edgar Wright movie in Last Night In Soho. The film marks Wright's first major move into psychological horror, swapping the Cornetto gags and souped-up action of Scott Pilgrim and Baby Driver for a mind-bending, time-bending, neon-lit trawl through the central London neighbourhood. In the middle of it all is McKenzie's Eloise, a wannabe fashionista who forges a mysterious connection back to the 1960s and Anya Taylor-Joy's singer Sandy. Here's a moody new shot of McKenzie in the film, as seen in Empire's upcoming issue.
"It's genuinely something I've never seen before," says McKenzie of Wright's latest, hinting at plenty of twists in the plot – which remains tightly under wraps for now. "Very unique. I love things where you're reading a script, and you know where it's going, and then it just goes in a completely different direction." And it seems there are surprises in store from Eloise herself too. "She's almost got kind of a sixth sense," she teases. "She can feel things that are on another level that most people can't see or feel."
Last Night In Soho is written by Wright and 1917's Krysty Wilson-Cairns, and after a number of lockdown-induced delays we'll finally see what the seedy streets of Soho have in store on 29 October.